Chairman Message                   
जीवन रण में पधारो, मार्ग तुम्हारा मंगलमय हो,
गिरी पर बढ़ना, गिर कर चढ़ना, तुमसे सब विघ्नों को भय हो I

Life is full of pleasure and pain, loss and profit, ups and down. Similarly success and failure both are the ways for an important task. It is obvious to be sad when we don't attain success even after doing hard work and determination. Sometimes we get scared for doing efforts again and fear of failure drives us back.
"बाधाएँ वे डरावनी वस्तुऍ हैं जो हमें तभी दिखाई देती है जब हमारी दृष्टि लक्ष्य से हट जाती है I"
Diligent persons are identified as those who consider failure, the way of success. In the world, a great many people have made their progress taking their failure as a challenge. Dear children, don't lose hope due to obstacles and failures. Keep on moving in your life with enthusiasm. As it is well said by Swami Vivekanand:-
"अगर तुम एक हजार बार भी असफल होते हो तो एक बार फिर से प्रयास अवश्य करो I"
Education trains for life. Attain education with positive zeal and enthusiasm. Education makes you self-sustaining. The lamp of Education once kindled in you will keep on kindling generations to come. So education will be light house for the nation.
                      Principal Message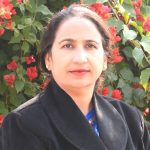 To sustain goodness for long, there must be a driving force. Undoubtedly this driving force is craving to practice positive ideology. "The greatest good you can do for another is not just to share riches, but to reveal to him his own." This very thought motivates me and my staff to provide platform to child to explore himself. After exploring the talent, it needs to be polished till it becomes a skill. For the same, patience on the part of the student, teacher and parents is required. As it has rightly been said that "The Key to everything is patience, you get the chicken by hatching the egg-not by Smashing."
Like every year, the X CBSE result has been 100% in session 2015-16 and 40% students Scored 80%-95%. Beyond academics, Social behavior, Communication skills, Positivity in thoughts and action are inevitable ingredients of quality education. To develop creativity and innovative thinking, the school organizes a large number of extracurricular and co-curricular activities like Health –Club & Eco-Club Activity, Quizzes and Seminars on all subjects, Hindi Play Competition, English Play Competition, Sports-meet, Drawing & Painting, Dance & Singing performance, Anchoring, Extempore, Olympiads, Participation in Bal-Vigyan Congress, Organizing Science Exhibition, Scout & Guide, Cub-Bulbul Camps, Awareness Campaigns, Participation in rallies to boost patriotism, Speech Competitions on religious & national festivals, routine House duties.
We assure all parents that the heart and soul of the school lies in these young students and within the available sources we shall keep on adding new dimensions to the school to maintain quality and excellence in education.
Dear Students! Education serves you in good stead in life but do not forget a dictum "कुछ भी बने मुबारक है, पर पहले इक इंसान बने" The thought makes us lament that morals are taking back seat in our life. Parents, home and society must route education through compassion, tolerance, kindness and care for others so that the earth is a worth place to live on.